S&S Take Out & Catering
PLEASE NOTE:
Due to COVID-19 our hours and services have temporarily changed. Check back soon for any updates!

INDOOR DINING
now open on a limited basis

Monday through Friday
11am - 7pm. Last seating is at 6pm

Saturday & Sunday we're also open for Brunch
10am - 7pm. Last seating is at 6pm

VIEW OUR DINE IN MENUS:

Brunch Menu

Dinner Menu


TAKE OUT SERVICE
— Our full Dinner Menu is now availble for Take Out
— Available between 11 am and 7 pm daily.
— Both of our entrances are now open.
— Please be mindful and keep a safe space between yourself and other customers.

View our Take Out Menu



CATERING SERVICE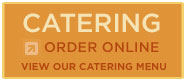 — Availble between 8 am to 5 pm daily.
— Catering is available for orders of 10 or more.

— Click here to access our on-line Catering Order System
— You can also place your Catering Order by phone at 617-354-0777.
** We have many individually packaged options available for your catering needs including our Breakfast Tote, Designer Bag Lunch, and Executive Tote. Call for details.


These changes are being made in order to keep our customers and staff safe.
Please check back for updates to our service.
The S&S thanks you for your cooperation during this time.
Stay safe and be well - October, 2020